Options * Specifications * Installing * See the video * Brochure * Inquire * Buy Now 
Zinterlock aluminium split battens provide a simple and secure method for flush-mounting signs, panels, displays, mirrors, cabinets and other large objects on flat surfaces. Zinterlock's strong aluminium extrusions fit together to form a "split batten" which can support large or heavy objects indoors or outdoors.  Zinterlock remains hidden from view, while enabling the object to be flush mounted onto the backing surface. A security pin locks the battens together, ensuring that the object cannot be lifted from its mount.
How Zinterlock works
Zinterlock consists of two interlocking z-brackets ("split battens"), plus a security pin to lock the arrangement. Zinterlock can allow lateral adjustment, making installations easier and enabling the object to be secured by sliding sideways onto the security pin.  Zinterlock is made from non-corroding aluminium alloy, so it can be used indoors or outdoors on all surfaces for a safe, durable mount. Zinterlock brackets can be easily cut or drilled to your requirements.
Zinterlock's split batten hanger design is an improvement on the traditional french cleat design.  Split battens are also known as french cleats, metal french cleats, french cleat hangers, cleat hangers, hanger clips, wall hangers, z clips, hook battens, frog cleats, wall panel fixing systems, panel fixings, panel fix, wall board fixings.
Options
Zinterlock is available either in packaged sets of (short) brackets, or in lengths of the Zinterlock extrusion.
The sets consist of two matching lengths of Zinterlock, plus a security pin.  Sets are available in 40mm, 125mm and 300mm equal lengths of Zinterlock.
Zinterlock is stocked in 2.4m lengths.  Remember, if choosing to buy Zinterlock extrusion by the meter, that it takes two lengths of Zinterlock plus a security pin (or one at each end for long lengths) to make a bracket!  The same extrusion is used for the upper and lower part of the split batten combination.  You can easily cut the extrusion to make the two pieces.  They do not have to be equal lengths.  Remember to order the locking pin(s) separately.
Order Zinterlock on line, or or call us on 1800 200 121 (Australia) or 0800 200 121 (NZ).
Specifications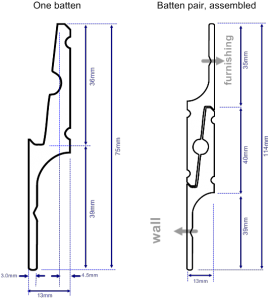 Assembled:
Overall thickness when assembled: 13mm (this is the distance separating the item being mounted, from the mounting surface)
Overall width when assembled: 114mm
Overlap: 37mm (this is the extent to which the two battens slide over each other until they mate)
Material:
Zinterlock is extruded from Aluminium Alloy 6063/Temper T5.  The product complies with British Standard GB5237-2008.
Loading:
The following paragraphs provide some data around the Zinterlock section's capacity to bear load.  For practical purposes however, the maximum load will not be limited by the Zinterlock section, but rather by the number and size of fasteners used to attach the Zinterlock to the wall, and to the item being hung.  You should therefore pay attention to the number of fasteners, their size, and their spacing.
Suggested "Rule of Thumb:" Considering the item's weight, provide for at least one fastener per 25kg of weight if using 8mm diameter or larger fasteners, or 1 fastener for every 10kg of weight if using smaller fasteners.  You will probably want additional fastening points at spread locations to provide stability, and this will of course help to spread the weight as well.  When fastening to gib wall, use enough of the appropriate gib anchors to ensure that the vertical load does not exceed the stated capacity of the anchor.
Example:  A panel or mirror, 1800mm wide and 1200mm high and weighing 50kg, to be mounted onto a gib wall:
Because the panel is 1200mm high, you probably will want to secure it from movement at both the top and the bottom.  You could either use two rows of Zinterlock (one top and the other bottom of the panel) to keep it parallel against the wall, or to use one row of Zinterlock at the top, and provide for some other form of restraint at the bottom of the panel.
The width of the panel indicates that it should be possible to attach to stud(s) or strengthening member(s) within the wall.  If so then you could use two short pieces of Zinterlock on each side of the wall (say 50mm or 100mm lengths) each attached to a stud using a 8mm fastener or two 5mm fasteners; you could then use a long piece on the panel to make it easier to hang level.
If you cannot access studs or other structures within the wall then you'll find it easier to use one long length of Zinterlock on the wall, running nearly the full width of your item.  Attach this to the wall using five gib wall anchors with rated load capacity of 12kg (you might use less fasteners with a higher load capacity if you can source them).
Attach the Zinterlock to the panel such that it will match accurately to the Zinterlock on the wall.  Since the panel weighs only 50kg, you might use (say) 6 to 8 Tek-screws (3mm shank) on a single length of Zinterlock spanning the width of the item, or four 6mm fasteners, or two 8mm fasteners on two short pieces of Zinterlock….
Engineering data: Zinterlock's section has an area moment of inertia Ixx about its longitudinal axis of 131.028mm4.  Based on yield strength of 110MPA, maximum distributed load at yield under bending is 12.3kN/m.   In practice, the most likely failure modality for an implementation will be due to vertical shear load at fastening locations where localised material yield using an 8mm diameter fastener is calculated at 2.5kN per fastening.  It is recommended that shear load per fastener should always be lower than 500N (equivalent to a 50kg weight) and in any case should be compliant with relevant specifications for the fastener.  Add fasteners along Zinterlock's length to distribute load.
Installing Zinterlock
It takes two pieces of Zinterlock to make up a split batten bracket.  Attach one piece of Zinterlock to the flat mounting surface (eg wall, post etc), using an appropriate fastener (not included).  Note that your choice of fastener depends on the wall material, and the weight of the furnishing.
Attach the other piece of Zinterlock to the back of the furnishing (sign, art work, mirror, cabinet etc) in an inverted position.  You might use an adhesive, or a mechanical fastening (again, not included).
Once the two brackets are in place, simply slide one into the other for a hidden mount. Finally, apply the locking pin between the two to secure the arrangement.
For best results, Zinterlock brackets should span at least 3/4 the width of a suspended furnishing. For large objects, top and bottom pairs may be necessary in order to achieve a consistent offset from the wall. If a flush mount is required (no off-set or gap visible), either the object or the wall should be recessed around the bracket locations to accommodate the thickness of the installed brackets.
Zinterlock's strong aluminum alloy has impressive weight bearing capabilities: a single pair can easily support several hundred kg.  Careful consideration should be given to how brackets are attached to the suspended object and to the surface being worked with.  Appropriate fasteners might include screws, adhesives, wall anchors, or a combination of these.
 Buy Zinterlock
Please choose from the following menu which Zinterlock option you are interested in.   Remember that "kits" include two short lengths of Zinterlock plus one security pin.  Otherwise, you can buy full 2.4m lengths of Zinterlock, and cut and drill it to suit yourself…..